Waterville Chess Club - Videos & Movies
---
Links to training videos and informational videos about chess games and chess masters.
Click on a tab below to reveal the links for that topic.


Top 35 Chess Principles - according to NM Nelson Lopez
The most sadistic mate in history: Tarrasch turns the screw against Nimzowitsch (commentary by Bruce Wallace). Enjoy.
Movies About Chess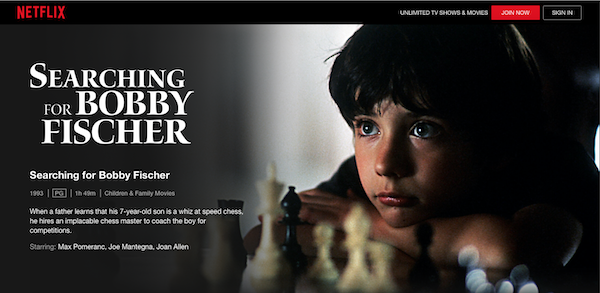 Searching For Bobby Fischer [1993]. Rotten Tomatoes gives it a score of 100%/86%. "After he beats his dad (Joe Mantegna) in a chess match, Josh Waitzkin (Max Pomeranc), a 7-year-old, gets noticed for his talent. He becomes interested in speed chess at the park and learns the game from a hustler named Vinnie (Laurence Fishburne). However, Josh's parents invest in the services of Bruce (Ben Kingsley), a famous coach who has very different practices. Between Bruce's methods and the stress of the competitions, Josh learns that even a chess prodigy cannot make all the right moves." Check out the trailer!
A movie on Netflix about a fictional chess prodigy during the Sixties: The Queen's Gambit. Rotten Tomatoes gave it an audience score of 97% (and you can tell from the trailer that there is plenty of drama to keep non-chess players watching). The New York Times has a particularly interesting review of the series: I'm a Chess Expert. Here's What 'The Queen's Gambit' Gets Right.
A movie on Netflix about a chess match held during the Cuban Missile Crisis: The Coldest Game [PG-30]. Rotten Tomatoes gave it an audience score of 47% (and I admit there were a couple of violent scenes). But if you like international thrillers with a hint of chess [they didn't really show any real games], you just might enjoy it. Those of us who were alive at the time probably were totally unaware of this chess game in Poland at the time (probably because this story is fiction)!
---